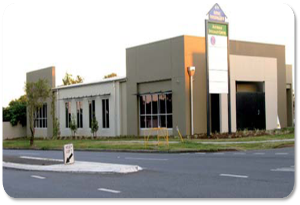 The Australis Professional Centre is a recently completed commercial premises located in Sunnybank, Brisbane. The Australis Specialist Centre, situated within the Australis Professional Centre has been purpose designed for medical specialist outpatient consultations. Sullivan Nicolaides Pathology is also located within the Australis Professional Centre and there is a further 287m2 available for lease.
The Australis Specialist Centre offers fully equipped, beautifully appointed and spacious medical consulting rooms, two day-use minor operating theatres and ample parking.
The Australis Professional Centre was first conceived in 2003 when Dr Khai Choong couldn't find any suitable buildings in the area for his Dermatology Clinic. Instead, he purchased a block of land on Beenleigh Road and built a facility designed not only meet his immediate needs but the needs of a busy and growing specialist medical centre in the future.
Business Need
ATo safeguard the computer systems, CCTV cameras, alarm system, air conditioning, lighting and critical medical equipment from power problems.
How NPS Helped
NPS provided a multi-layered power protection solution which included a Surge Diverter on the main switchboard, a 10kVA UPS protected by a Surge Filter and a 28kVA Diesel Generator with an Automatic Transfer Switch to provide 2-4 hours of back up power. A full size rack was also provided to house the UPS, server, patch panel, switch/router and CCTV HDD recorder.
The UPS battery time required was minimal as the generator could provide full coverage within 2-3 minutes. It was critical however that the UPS' could smooth any potential power issues typically created by the generator. The UPS selected was an Eaton Powerware 9140 On-line Rack Mount UPS.
Result
"This solution ensures our critical systems will keep running even in the event of an extended power outage. We believe with our state of the art facilities and reliable power infrastructure we will attract more specialists to the centre.
NPS really took the time to understand my requirements and worked with me to develop a solution that took into consideration my practical and financial requirements. The salesperson was always easy to contact and quick to respond to my queries. During the implementation, NPS liaised directly with my electrician and the site foreman to ensure everything went smoothly. I have no hesitation in recommending NPS to other businesses."
Dr. Khai Choong, Dermatologist, Australis Specialist Centre, Brisbane